Overview
In order to protect your server account from malicious attacks, mixhost uses AI technology to protect against various attacks.
However, even if there is no malicious intent, such as when the customer enters the wrong login information multiple times, the protection function may be activated, and Protected by Imunify360 may be displayed.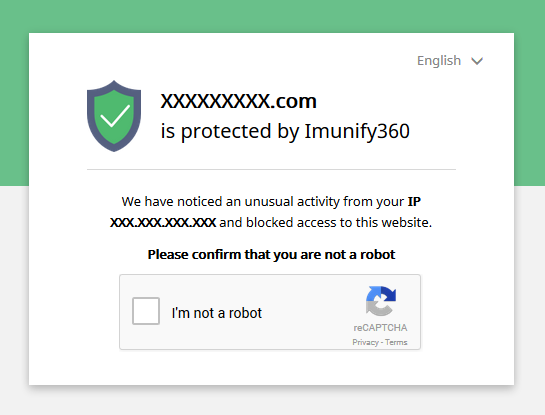 This display does not mean that there is a problem with your website, but if there is behavior that is suspected to be an attack from the IP address of the connection source, communication to the server will be temporarily blocked, and unauthorized access by robots will occur just in case. displayed to determine whether
Regarding this, you can unblock yourself by clicking I'm not a robot from the above message and following the reCAPTCHA instructions.
*Depending on the situation, reCAPTCHA instructions may occur multiple times, but they will be canceled by continuing to follow the instructions.
If your server is a BitNinja installed server, please see here.
If the restriction is not lifted even after checking the above, please contact support with your global IP and the following information.
mixhost contact form
Your initial domain
Contractor name
Your global IP
How to check global IP
If you do not know your global IP, you can check it by using the following sites.
(The link destination is an external site.)
CMAN - IP Address Confirmation
Access the site and the IP displayed in the red frame below will be your global IP.