You can check the access log, error log, and cPanel connection history by following the steps below.
How to check access log/FTP log
STEP 1: Log in to cPanel.
STEP 2: Click Raw Access in Metrics.

STEP 3: Select the target domain.
Click on the domain name or download the archive.
How to distinguish various log files (archive)
FTP log: files whose file name starts with ftp.
https access log: SSL or ssl_log is included in the middle of the file name
http access log: subdomain name-month-year.gz file name
gz file how to open
Files with the gz extension are compressed files, so you will need separate software to decompress the files.
Please use software such as 7-zip to decompress the file and view it.
How to check the error log
STEP 1: Log in to cPanel.
STEP 2: Click Errors in Metrics.

STEP 3: Browse errors.
Please check the 300 most recent errors on your site.

About the PHP runtime error log
The "error_log" file is output in the same hierarchy as the directory where the php file is installed.
Due to reasons such as WordPress plug-ins becoming unsupported, errors may continue to occur and the file size may become very large.
There is no problem even if you delete the error_log file, but if you leave the cause of the error as it is, the file size will become very large again, so it is necessary to disable the plug-in in question.
WordPress plugins and PHP programs created and set by customers are not supported.
Therefore, we kindly ask for your understanding that it may take some time to respond and that we may not be able to provide an accurate response.
We would appreciate it if you could refer to the support policy, which describes the content that is supported.
How to check connection history to cPanel
STEP 1: Log in to cPanel.
STEP 2: Click File Manager in Files.

STEP 3: Click .lastlogin under /home/user directory.
*If .lastlogin is not displayed, please check the following.
How to show hidden files (like .htaccess) in File Manager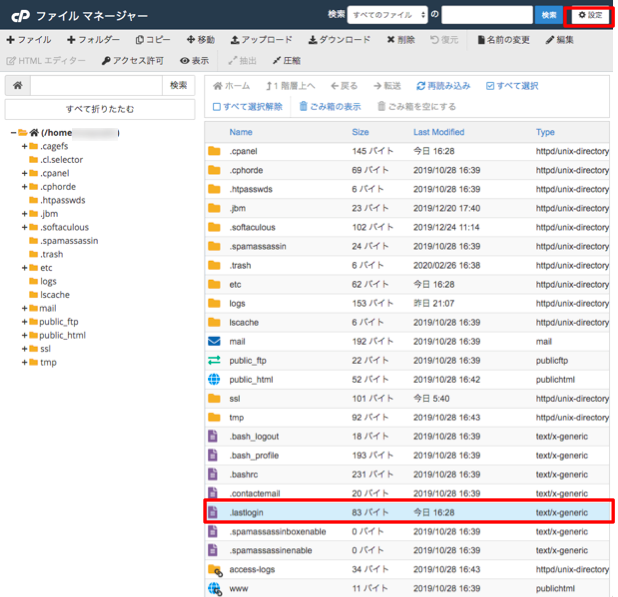 STEP 4: Click the Edit button.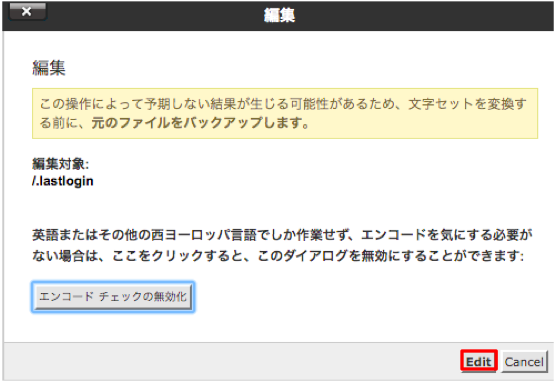 *This log is recorded only when the IP address when accessing cPanel has changed since the last login. Not all connection records are listed. Please note.
**It is also recorded when mixhost customer support logs in to respond. We can investigate unknown IPs, so please contact us.