Please complete the email address creation before setting up.
How to create an email account.
Where to check the setting value
STEP 1: Log in to cPanel.
STEP 2: Open Email Accounts.
Click Email > Email Accounts.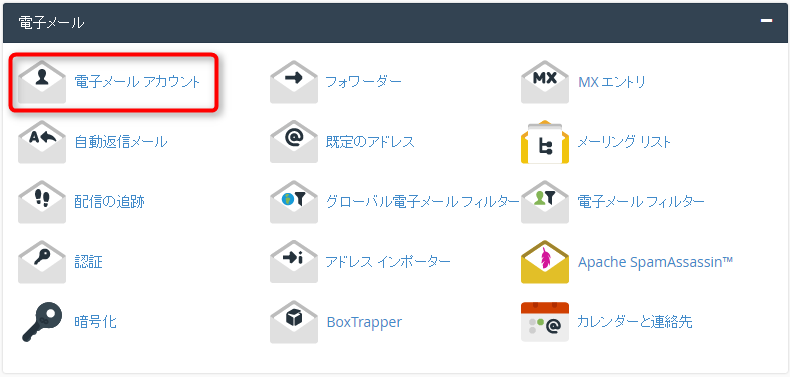 STEP 3: Click "Set Up Mail Client".
Click "Set Up Mail Client" on the right side of the email address whose settings you want to check.

STEP 4: Select automatic configuration script/manual configuration.
Automatic configuration script
If you use one of the following mailers, you can automatically set up an email account.
Click on the protocol (IMAP/POP) section to download and run the automatic configuration script.
Windows Live Mail
iOS for iPhone/iPad/iPod and MacOS® Mail.app®

*The automatic configuration script may not be available depending on the environment.
In that case, we apologize for the inconvenience, but please try the manual setting.
Manual setting
Refer to the information below.
For enhanced security, we strongly recommend using a secure SSL/TLS configuration.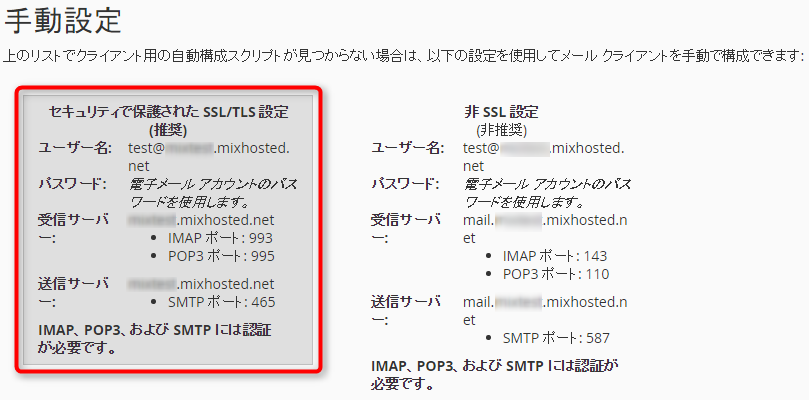 *The display may differ depending on the server.
*If you register a new server account or add a domain, an SSL certificate error may occur in your email software.
It will be resolved within 24 hours at maximum, so please wait for a while and try again.
About the supported range
We kindly ask for your understanding that we may not be able to provide guidance on how to use email software such as Outlook and Thunderbird, and how to make detailed settings.
Please refer to the support policy for the scope of support.